First, make sure your Pickup Details are correct.

If you need to change the pickup location (for example: you need something delivered to you), click Edit (next to Where). Here you can change the pickup address as well as the pickup instructions.
Next, choose whether you want an ASAP delivery (no time constraints, but guaranteed same-day) or to schedule a delivery with a pickup time window.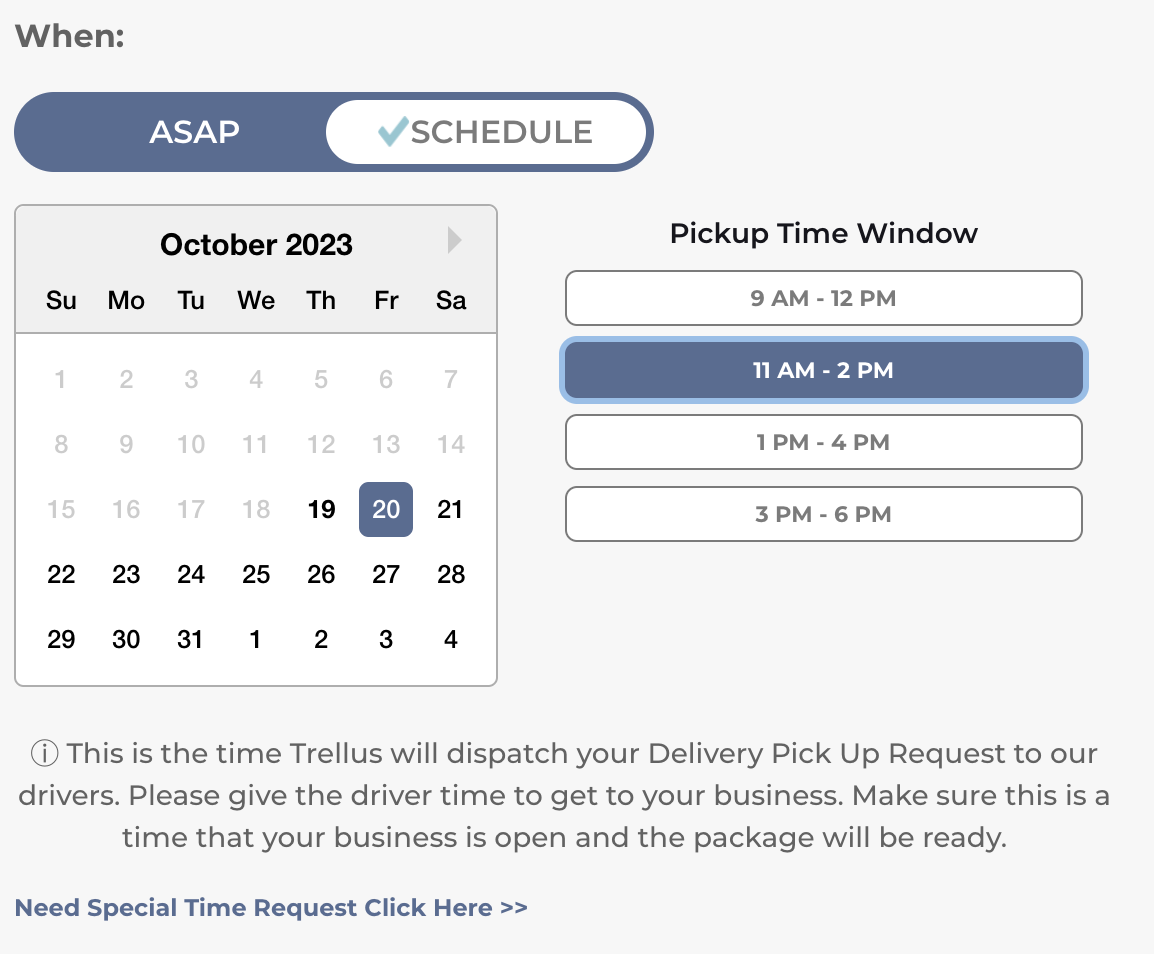 Please note, pickup windows are a request, and we do our best to honor them. These are not delivery dropoff windows. Our dropoff guarantee is Same-Day.
When planning your delivery pickup, keep in mind that you cannot schedule a pickup if it's within 60 minutes from the start of that window.
If you need a special time request, please reach out to us through our Contact Form.
Next, fill out the Delivery Details for the dropoff.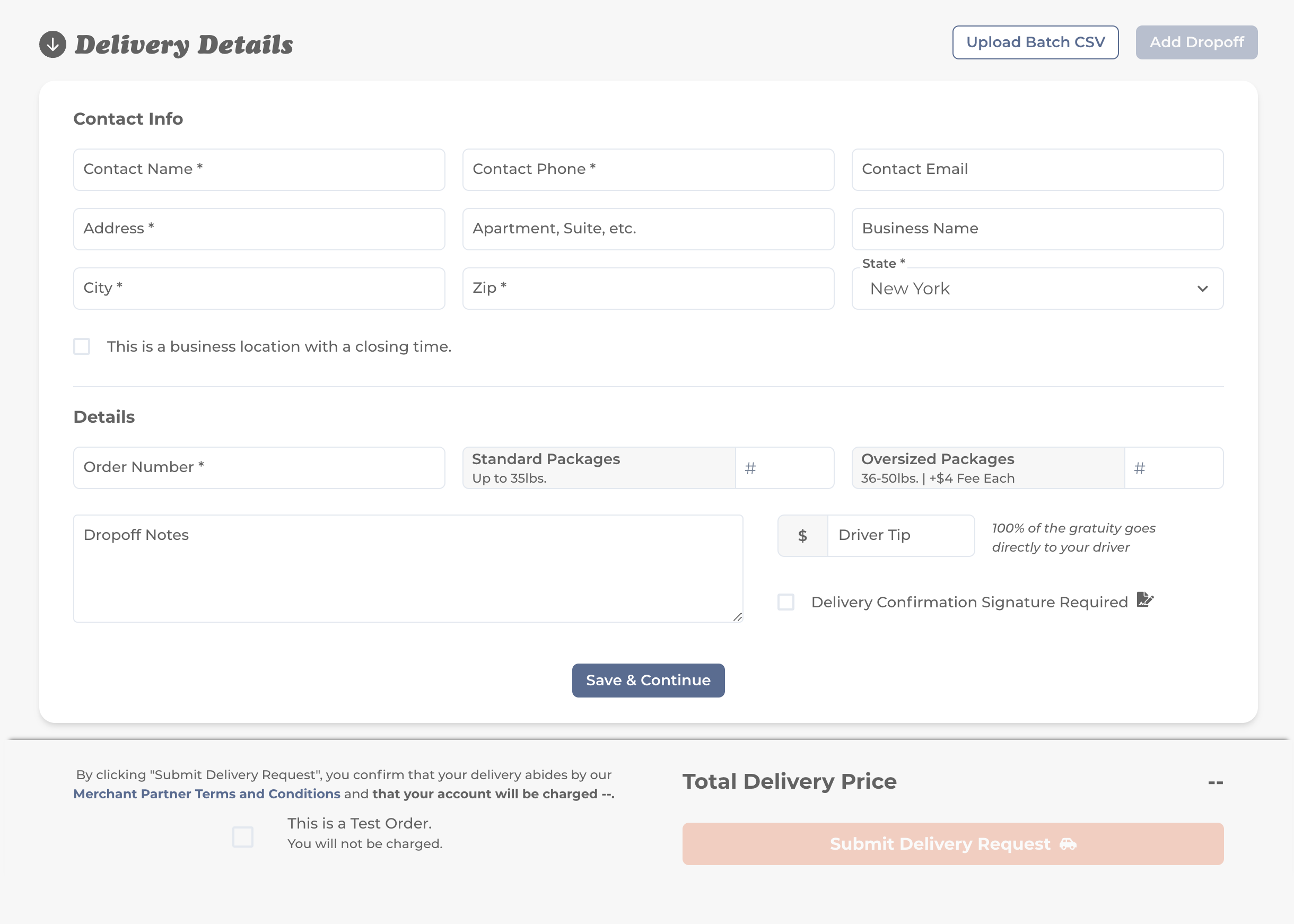 After you press Save & Continue you'll be able to submit a single delivery or you can select Add Dropoff to add more deliveries and create a Batch Delivery. With Batch Delivery, you no longer need to upload a CSV spreadsheet; you can build the batch right here by adding dropoffs. However, if you prefer the spreadsheet upload, you still have that option by clicking Upload Batch CSV.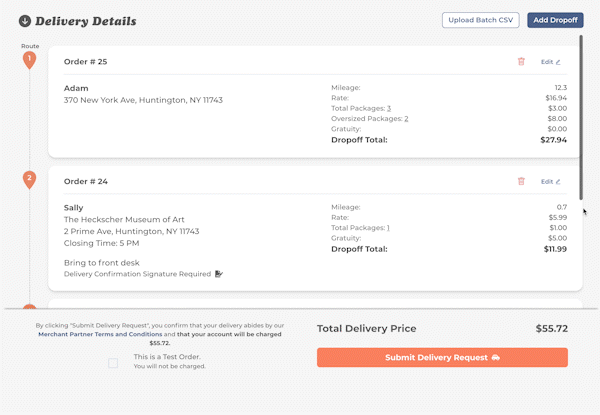 Breaking down the New Delivery Request Form: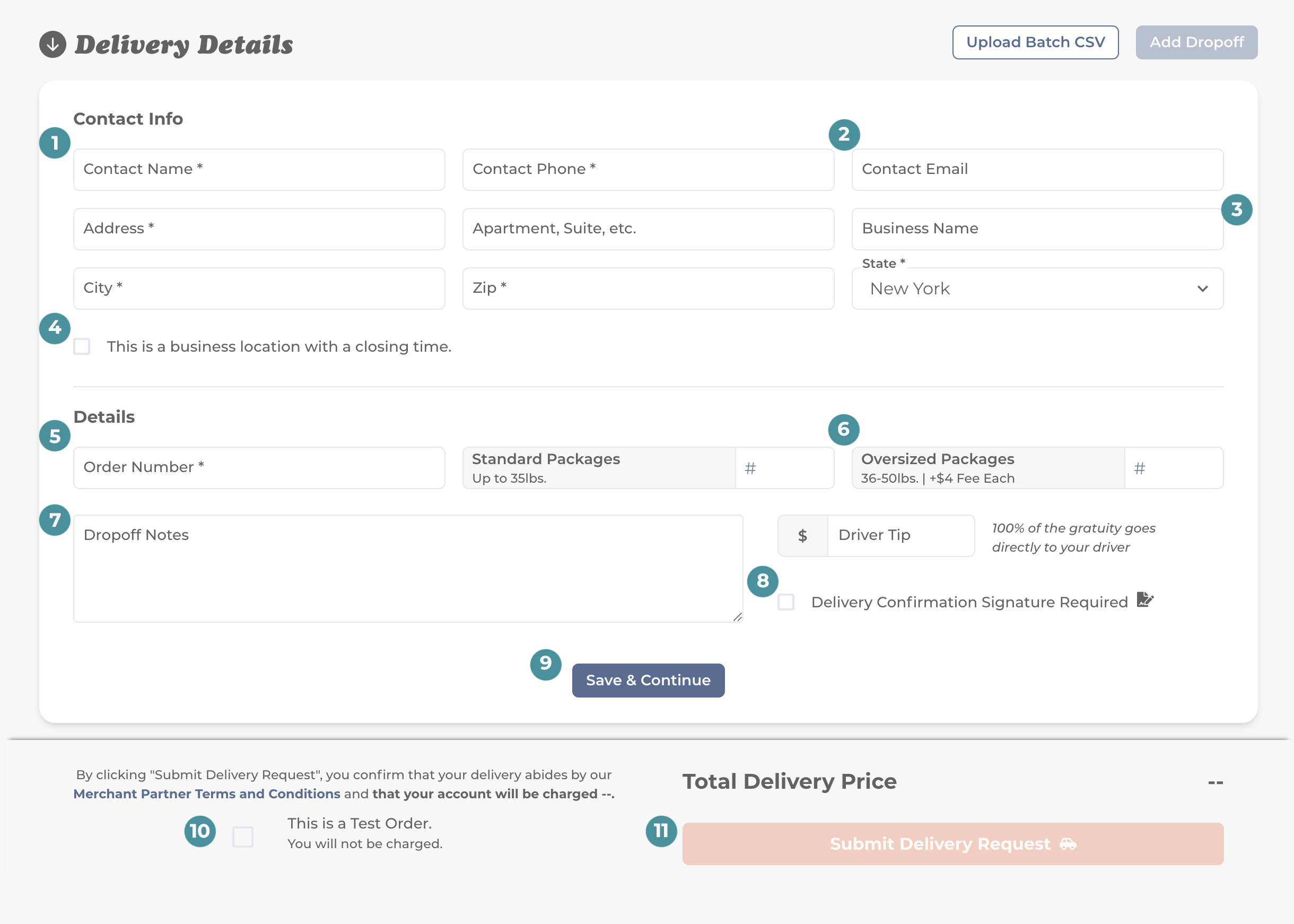 Contact Name, Address, City, Zip: Information for the person receiving the delivery Please make sure to input all delivery locations accurately to avoid additional fees from having the driver redeliver or return the package to your store.
Contact Phone & Contact Email: When you add the contact's phone number, they'll receive a text message letting them know the driver is on the way. This is especially helpful for gift recipients who aren't expecting a delivery. If you provide the recipient's email address, they will also receive an email when the delivery is completed, which will include photo Proof of Delivery.
Business Name: You can now add in a Business Name, which helps our drivers when the recipient is at a place of business.
Business locations with closing times: This helps our dispatchers route accordingly. We will do our best to accommodate closing times as much as possible.

We ask that you please allow at least 3 hours between your pickup time and the business closing time.



Order Number: This number is for your internal recordkeeping.
Standard Packages & Oversized Packages: Input the total number of standard packages (any package under 35lbs) and the total number of overweight packages (between 36lbs-50lbs) Overweight packages incur an additional $4 per package fee, in addition to the $1 per standard package fee.
Driver Gratuity: This is where you can add driver gratuity from your customers. 100% of the gratuity goes directly to the driver, and they very much appreciate it!
Dropoff Notes: Delivery Instructions are very important. You should leave delivery instructions in the following scenarios:

Your business closes at a certain time.
The driver needs to pick up through a door other than your store's front door.
The recipient has a gate code to access their property.
The recipient has a specific location where they would like the package left.
You would like us to pick up the package between a certain timeframe.

Delivery Confirmation Signature Required: Check this off if you would like the driver to get a signature from the recipient
Save & Continue: You must press this button in order to initially save your work and move on to the next step. On the following screen, you can place a single delivery or add more dropoffs to create a Batch Delivery. The page will autosave as you add dropoffs, so don't worry if you have to step away or you're waiting to add more dropoffs throughout the day.
This is a Test Order: Select this button if you want to test the system to familiarize yourself with it or to get sample pricing on a delivery request. No driver will be dispatched.
(NOT a test order) Once you hit Submit Delivery Request our system will be alerted of the new delivery request and our team will dispatch a driver.
Have multiple packages? Click here for Batch Delivery