Make sure your Pickup Location is set

Set your delivery pickup for ASAP or scheduled. If you choose scheduled you can select a pick-up window for the day. To learn more about scheduling a delivery see this article Scheduling a delivery in advance

Input an order number (This number is for your internal record keeping)

Input the total number of standard packages (any package under 35lbs) and the total number of overweight packages (between 36lbs-50lbs) Overweight packages incur an additional $4 per package fee in addition to the $1 per standard package fee.
This is where you will add in the gratuity for the driver that your customers left for them. 100% of the gratuity goes directly to the driver.
Make sure to input all delivery locations accurately to avoid additional fees from having the driver redeliver or return the package to your store.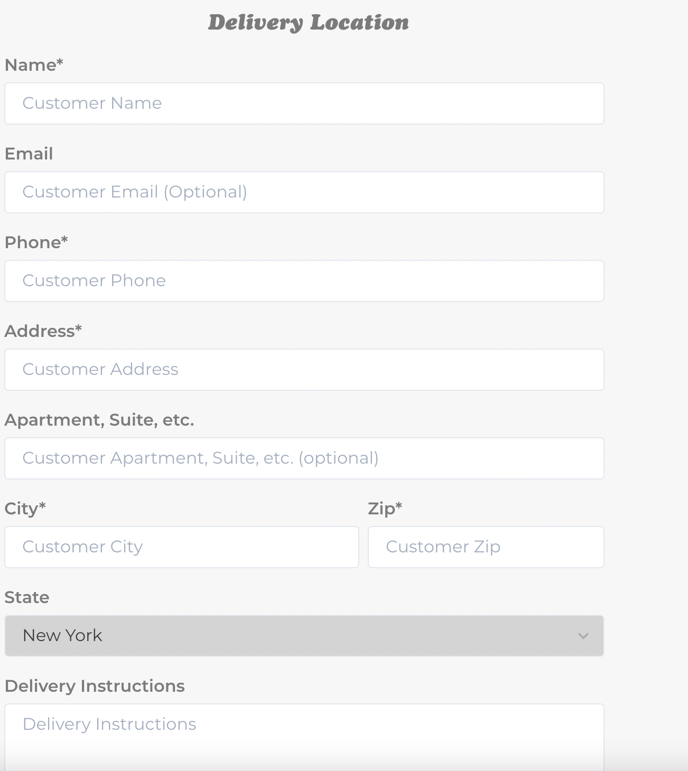 Delivery Instructions are very important. Situations where you should leave delivery instructions are most often:
Your business closes at a certain time
The recipient's business closes at a certain time
The driver needs to pick up through a door other than your stores front door.
The recipient has a gate code to access their property
The recipient has a specific location where they would like the package left
You would like us to pick up the package between a certain time frame
After you enter the delivery information, you will be directed to the Confirm Delivery Request. Here you can confirm all of your information and see the total delivery price before pressing "Place Delivery".
Once you hit "Place Delivery" our system will be alerted of the new delivery request and our team will dispatch a driver.
Have multiple packages? Click here for Batch Delivery