Integrate your Shopify account to add Same-Day Delivery by Trellus at check-out in 5 easy steps!
Note: Carrier Calculated Shipping MUST be enabled in your Shopify Account first. Learn how to do that here.
Overview
This document outlines how to circumvent using our Shopify App, which pulls real-time delivery rates, but requires an additional charge paid to Shopify for 3rd Party Carrier Calculated Shipping.
We create Local Delivery Zones using Shopify's built in feature to offer delivery options at check out collecting enough money from the Customer to cover Trellus' Delivery Rate when creating a Delivery Request on our website. Each zone will cover a 5 mile radius from the Store Location. The Delivery Price for each Zone will be the highest dollar amount for the mileage within that Zone.
For Example: Up to 5 Miles is $9.99 (Basic Plan). The next Delivery Zone will cover from 5.1 Miles to 10 Miles and Delivery Price is set to collect $17.49 which is the price for a 10 Mile delivery. We suggest mileage tiers of: 5, 10 & 15 Miles. If further out on the island we could do 20 Miles. Be mindful that if the Business Location is close to the edge of our Service Area you will not be able to offer a Delivery Zone with a radius that extends outside.
Delivery Rate Charges
When setting up pricing for delivery zones, consider our Delivery rates. The Delivery Price can always be higher if the business wishes to make extra money on the delivery charge to the customer.


Basic Plan:
Mile




Radius

Delivery




Price

5

$9.99

10

$17.49

15

$24.99

20

$32.49
Business Plan:
Mile




Radius

Delivery




Price

5

$8.49

10

$15.99

15

$23.49

20

$30.99
Pro Plan:
Mile




Radius

Delivery




Price

5

$6.99

10

$14.49

15

$21.99

20

$29.49
Step 1: In your Shopify Back-End, navigate to "Settings"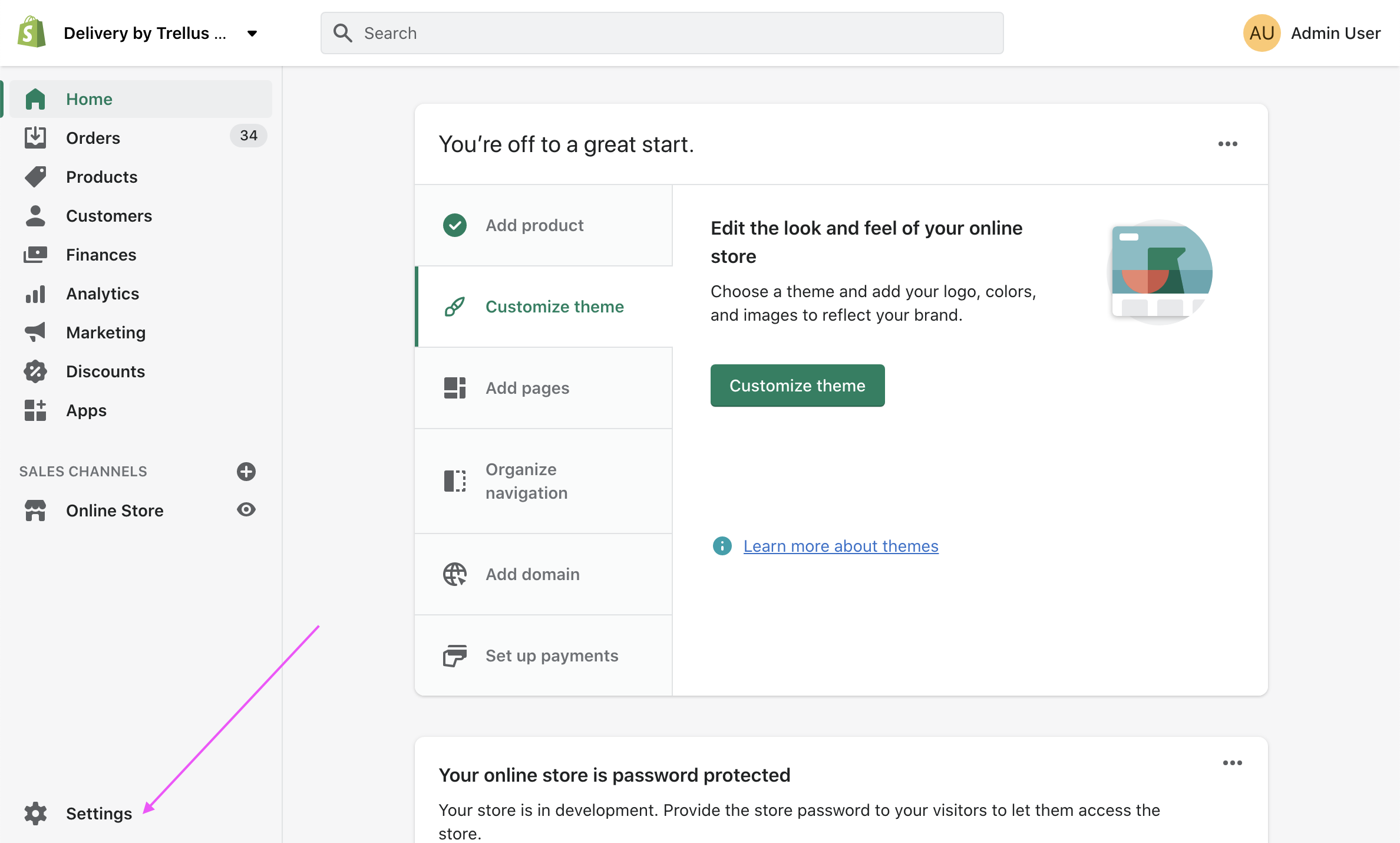 2. Click 'Shipping and delivery' on the left menu bar.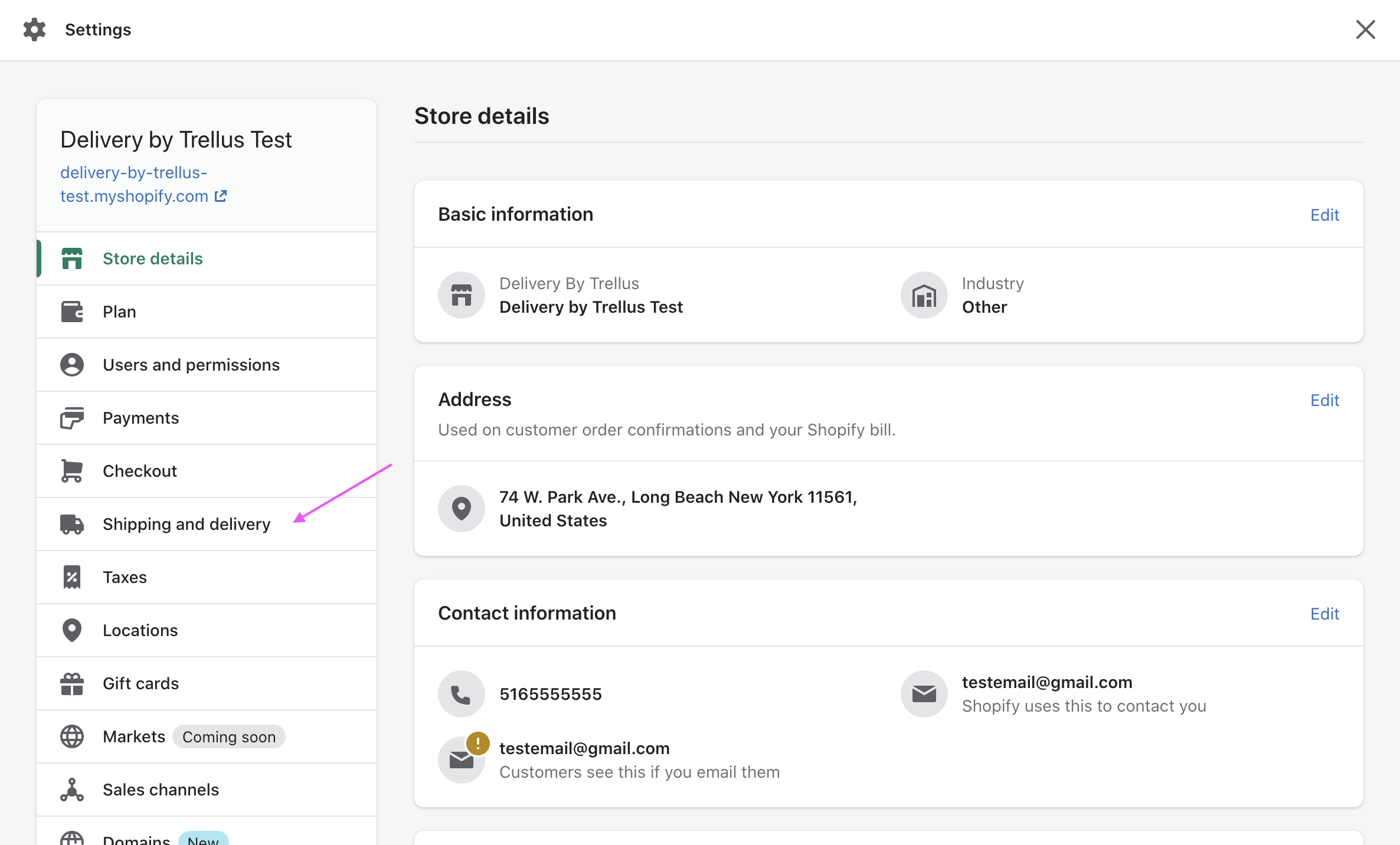 3. Under Local Deliveries click the "Manage" button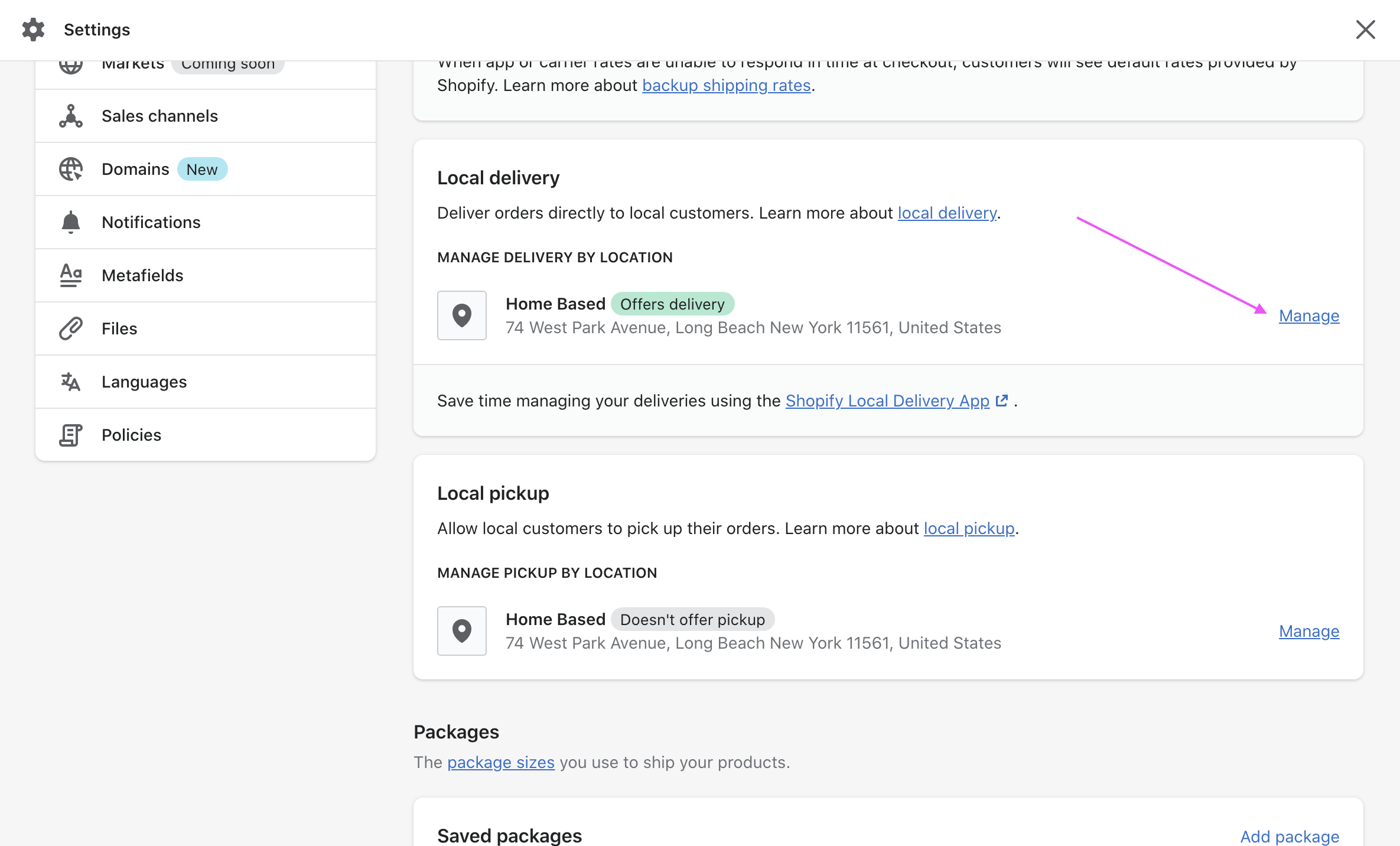 4. Under Shipping and Delivery, ensure the below Options are checked off:
✅This location offers local delivery
✅Set a delivery radius (if you prefer to use zip codes, please skip to step 6)
✅Measure Radius in Miles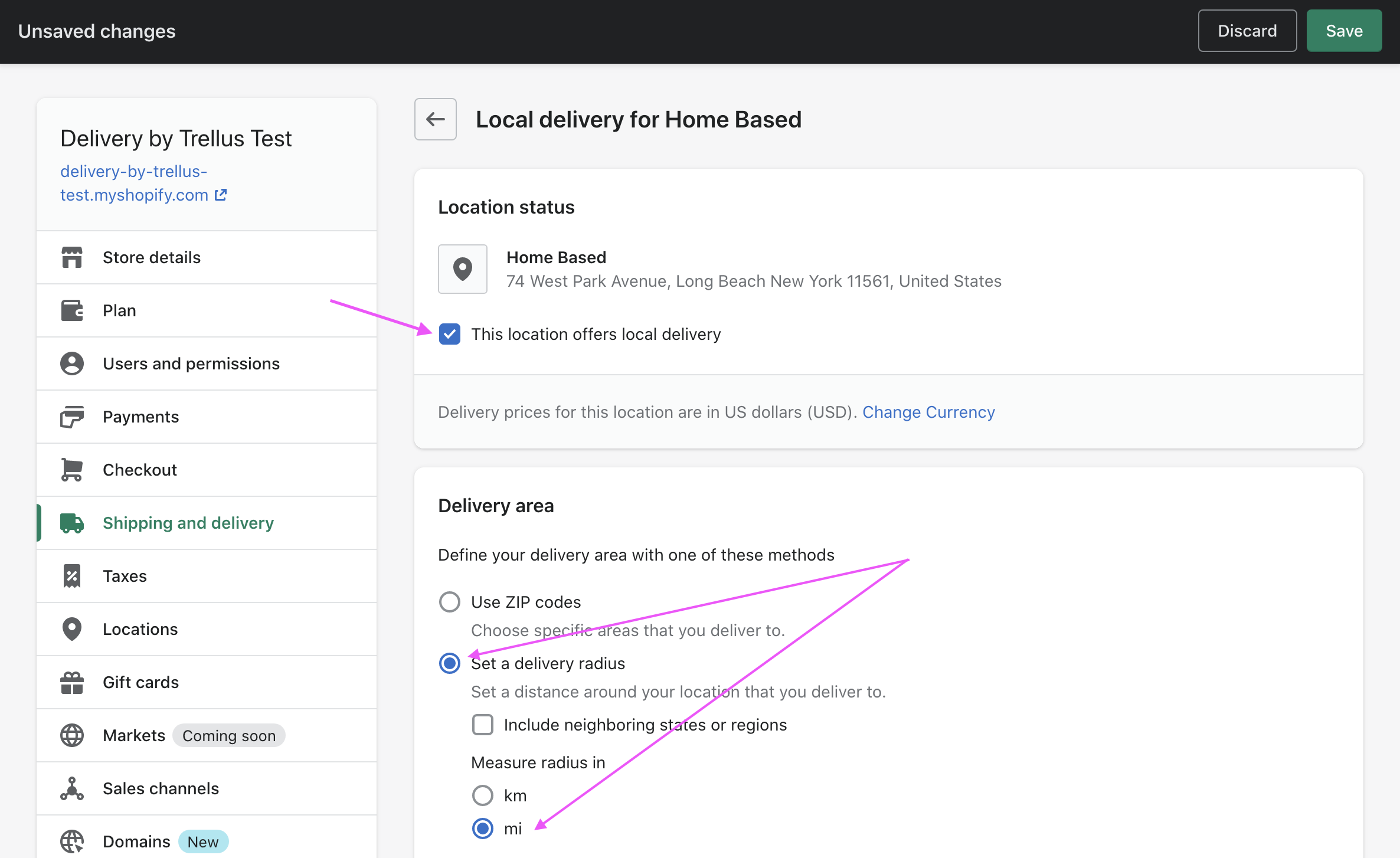 5. Ensure the below information is filled in:
✅Delivery Zone: Same-Day Local Delivery by Trellus
✅Set a delivery radius of 5 miles
✅Set delivery price (Based on Trellus Subscription)
✅Update delivery information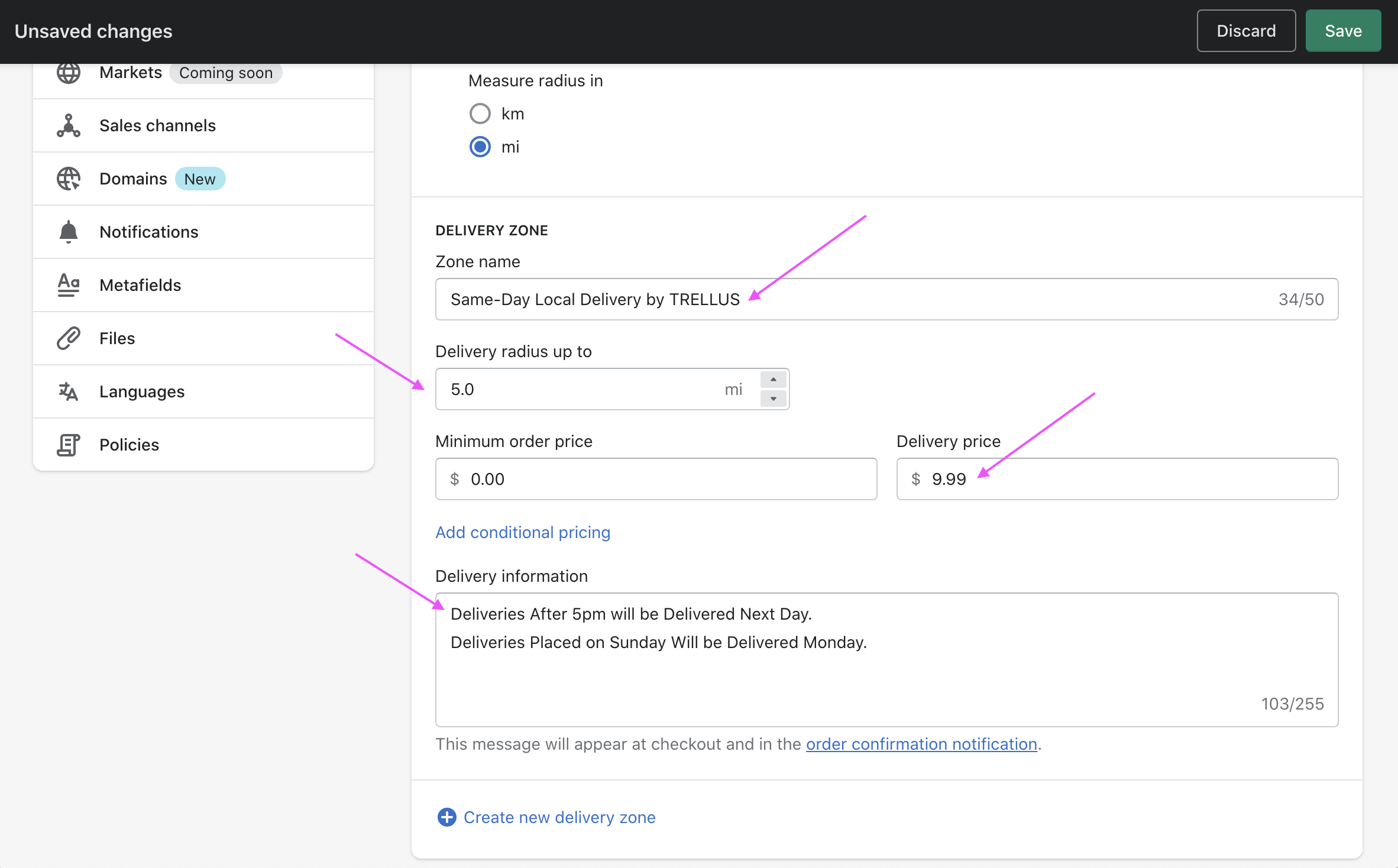 6. Setting Delivery Zone using Zip Codes:
✅ Select 'Use ZIP codes'
✅ Delivery Zone: Same-Day Local Delivery by Trellus
✅ Add zip codes (separated by a comma) that you want to include in the same pricing
✅ Add a delivery price based on your plan
✅ Add Delivery information so your customers know your hours and delivery cut-off times