1. Log into your Wix back-end. Click here to be directed to our dedicated Wix app.
2. Follow the steps to accept and add our app to your site.
3. Head over to your Delivery Dashboard and click "Menu" then "Account Integrations"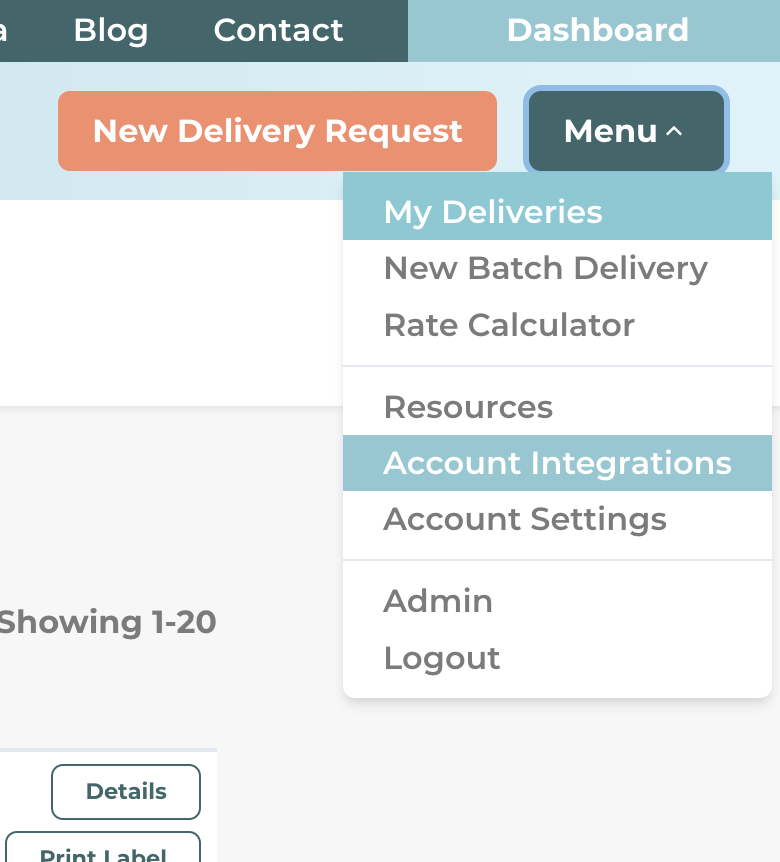 4. Copy the authorization code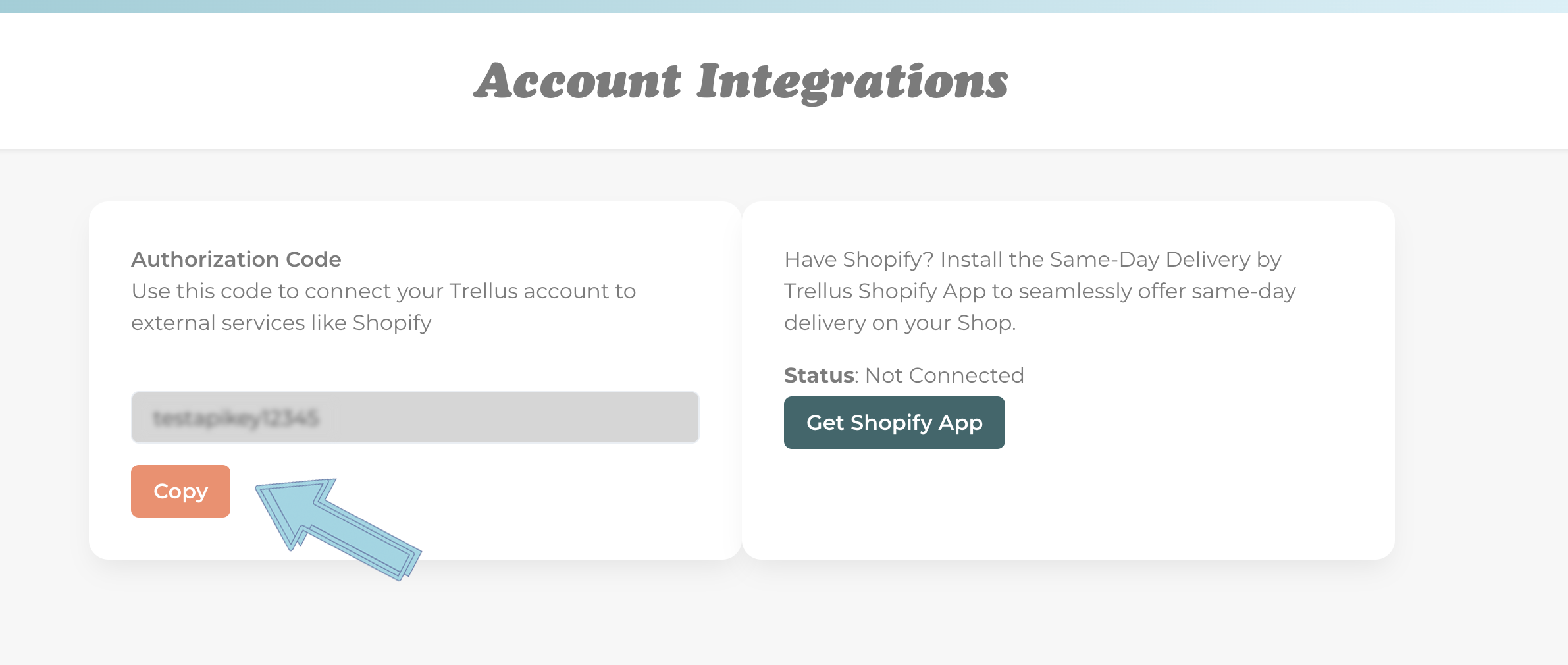 5. Head back over to Wix and paste the authorization code. Then select "Verify authorization code"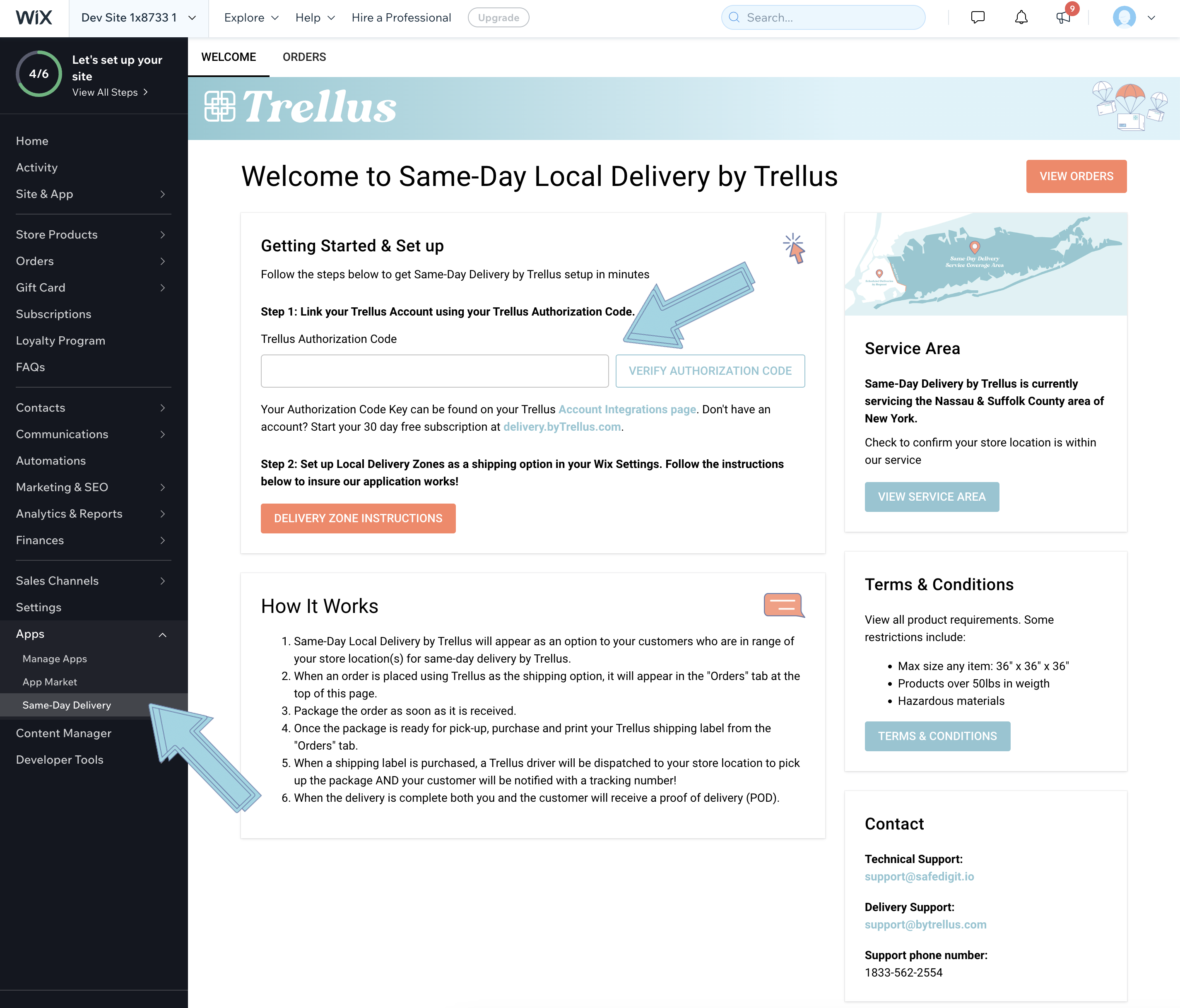 6. Log into your Wix back-end. Navigate to "settings" then "shipping and fulfillment"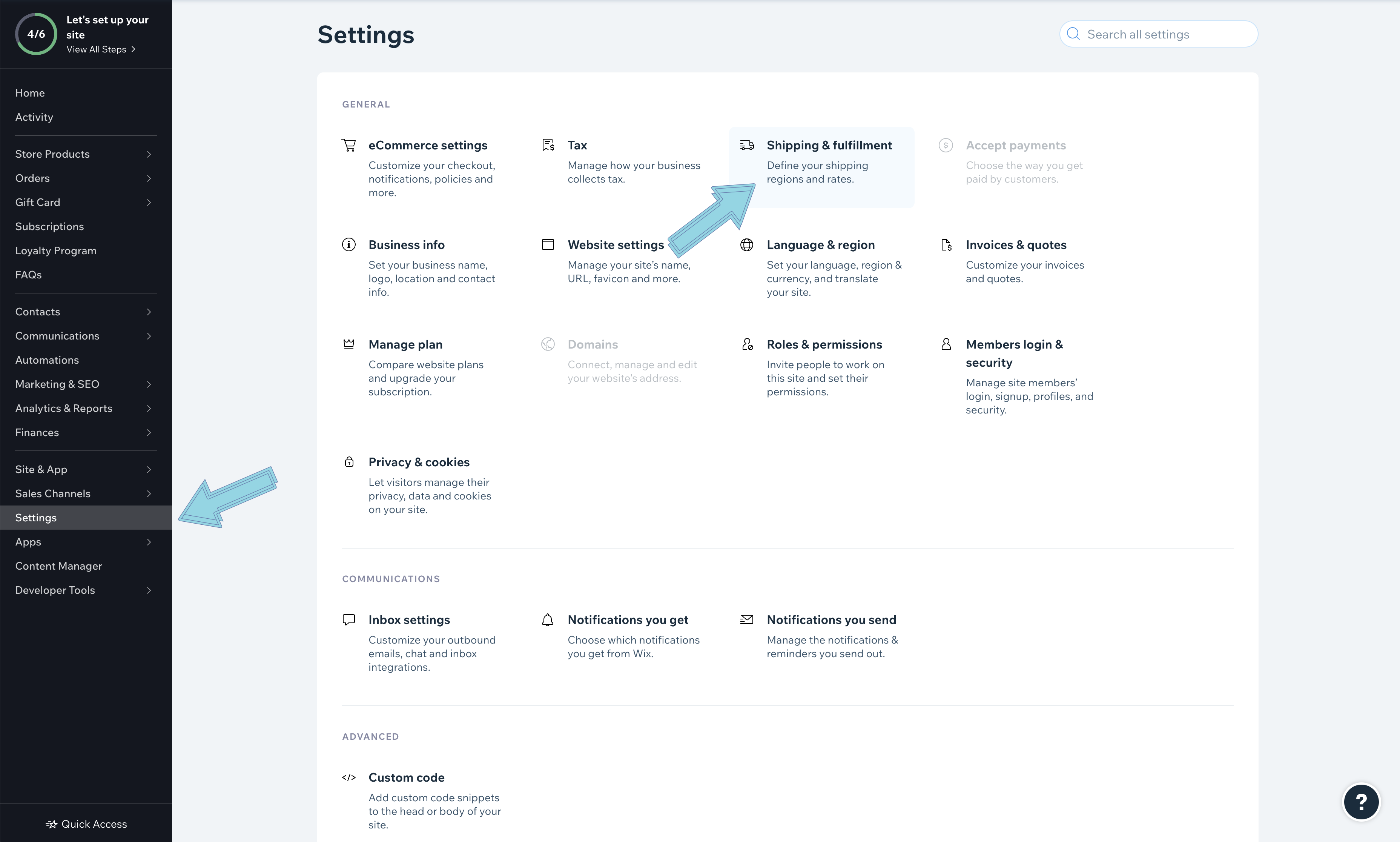 7. Add Local Delivery into your Shipping Regions. Click "Edit" to set up local delivery zones.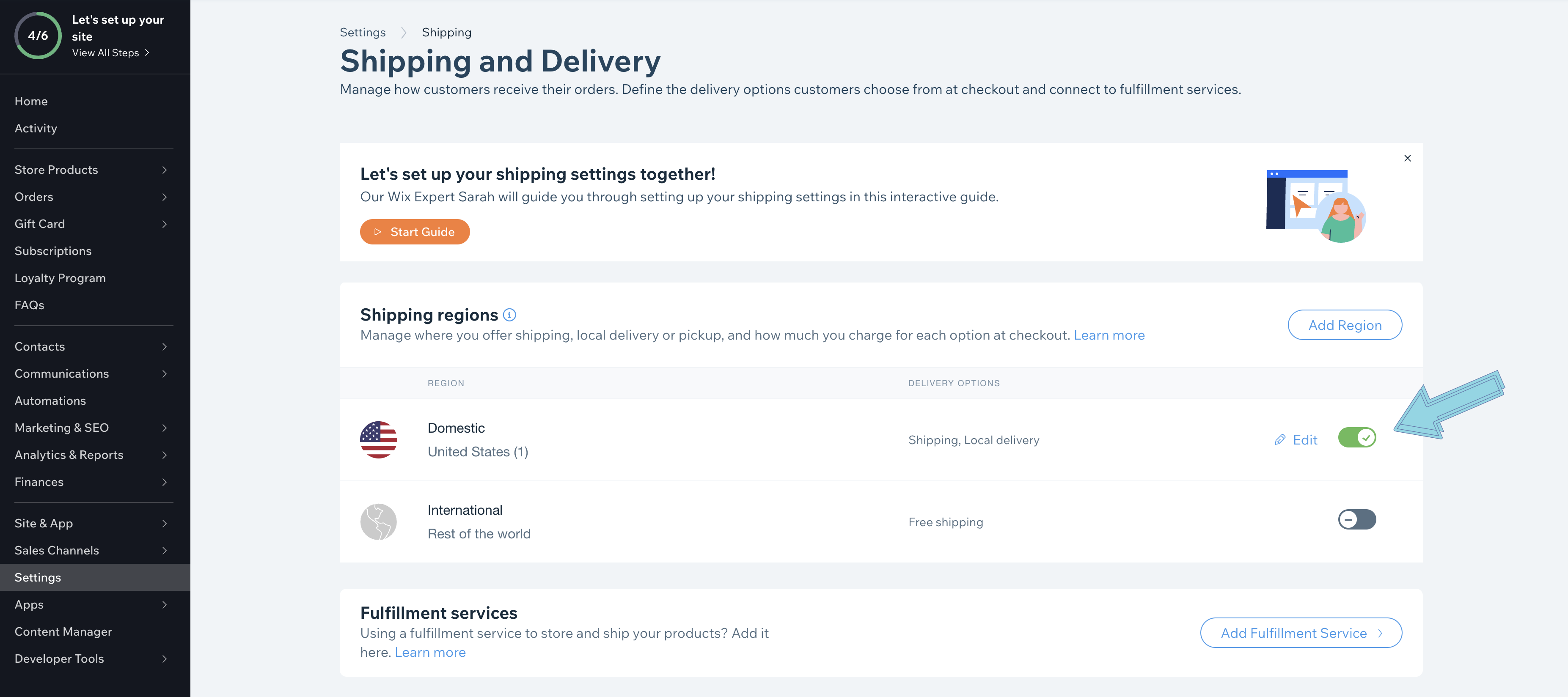 8. Click "edit" and being creating your Local Delivery Zone Radius. We recommend to set up 5 and 10 mile delivery radius' from your store. Please note if you want to do multiple radius zones you will need to do this by zip code, otherwise the zones overlap. Wix will show both prices at checkout if you don't do it by zipcode. Use this site to help get zip codes in a specific radius.
You may want to write in that orders placed after a specific time will be delivered next day.
9. Test your site to ensure "Same-Day Local Delivery by Trellus" shows at checkout.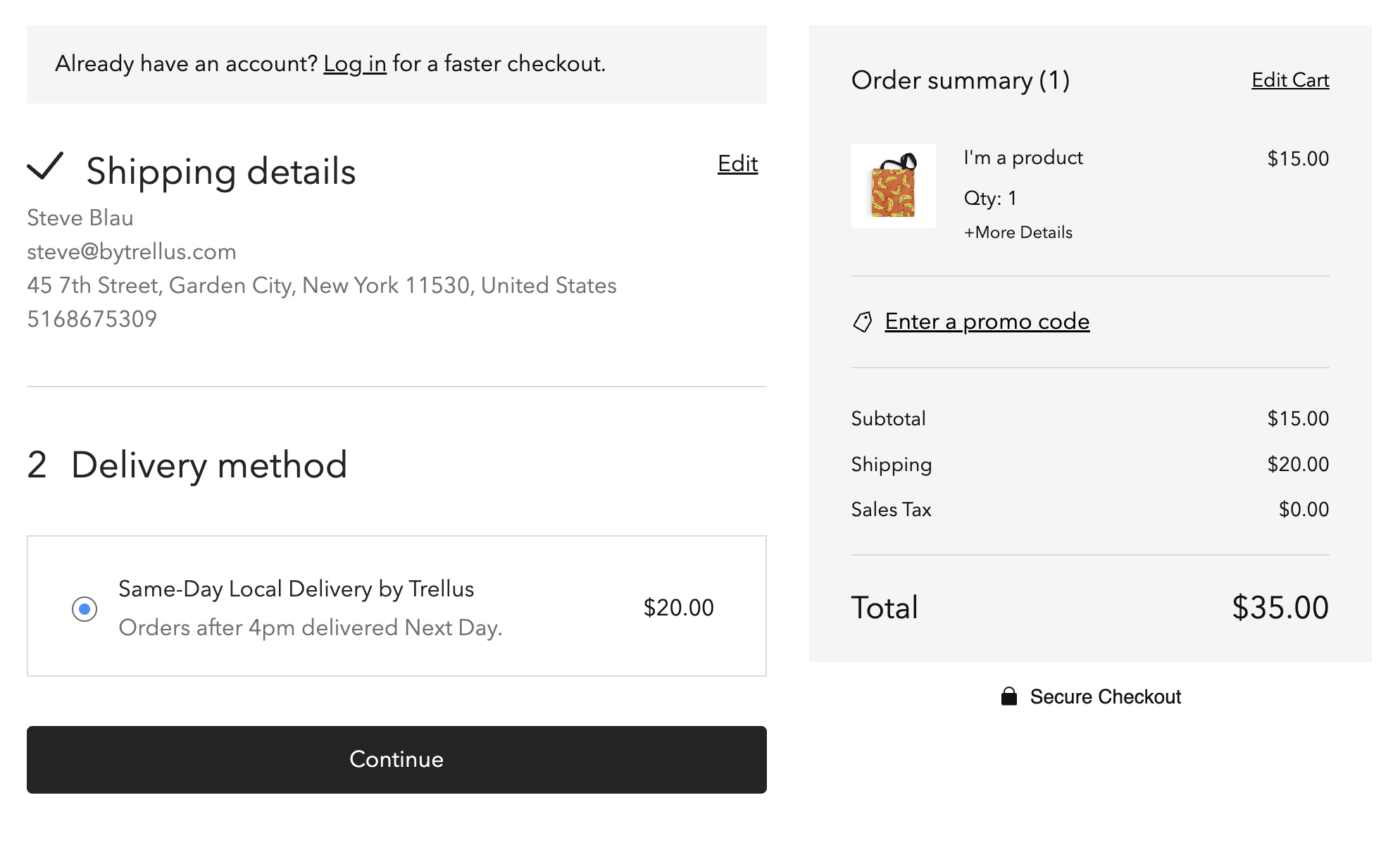 Delivery Rate Charges

When setting up pricing for delivery zones, consider our Delivery rates. The Delivery Price can always be higher if the business wishes to make extra money on the delivery charge to the customer.

Up to 5 Miles is $9.99 (Basic Plan). The next Delivery Zone will cover from 5.1 Miles to 10 Miles and Delivery Price is set to collect $17.49 which is the price for a 10 Mile delivery. We suggest mileage tiers of: 5, 10 & 15 Miles. If further out on the island we could do 20 Miles. Be mindful that if the Business Location is close to the edge of our Service Area you will not be able to offer a Delivery Zone with a radius that extends outside.
Basic Plan:
Mile




Radius

Delivery




Price

5

$9.99

10

$17.49

15

$24.99

20

$32.49
Business Plan:
Mile




Radius

Delivery




Price

5

$8.49

10

$15.99

15

$23.49

20

$30.99
Pro Plan:
Mile




Radius

Delivery




Price

5

$6.99

10

$14.49

15

$21.99

20

$29.49